French Catheter Scales
Here are just a few sampels of the custom French Catheter Scales we can print your logo and contact information on!
CFCAT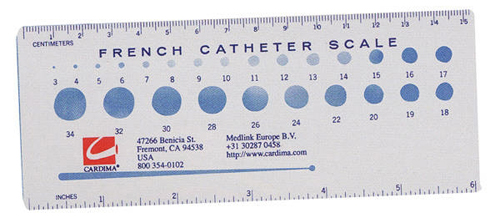 French catheter scale template. Printed on white gloss plastic with one standard color of ink.
Size: 2 1/2" x 6 1/8" x .020" thick
Material: Plastic
Color: Other Foil Colors; White
Imprint Color: Printing on plastic generated different ink color results than printing on paper. Some color variations can be expected due to heat lamination, bleed film and plastic color. Printing on colored plastic will alter the color of the ink. A color match (PMS or custom), or colored vinyl will result in additional color match changes (contact factory for details). PMS color matching on colored plastic is not guaranteed. See "INK COLORS" for additional color match information.
---
C20-107

2 5/8" x 6 1/4" x .020" white plastic vinyl French catheter scale and stubs needle gauge. Also has a stock stubs needle gauge on the back for easy reference. Includes 25 die cut holes used to measure catheter sizes. Also includes inch and centimeter scales.
Material: Plastic; Vinyl
Size: 2 5/8" x 6 1/4" x .020"
Color: White
Imprint Color: Black; Brown; Burgundy; Green; Ochre; Orange; Process Blue; Purple; Red; Reflex Blue; Rubine Red; Teal; Warm Red; Yellow
---
CFCSCALE

French catheter scale for medical and pharmaceutical. Target markets: Pharmaceutical companies, lens manufactures, hospitals, optometrist and genetic research.
Size: 6.25" x 2.25" x .030"
Imprint Color: Black; Brown; Burgundy; Green; Process Blue; Red; Reflex Blue; Teal; White; Yellow

---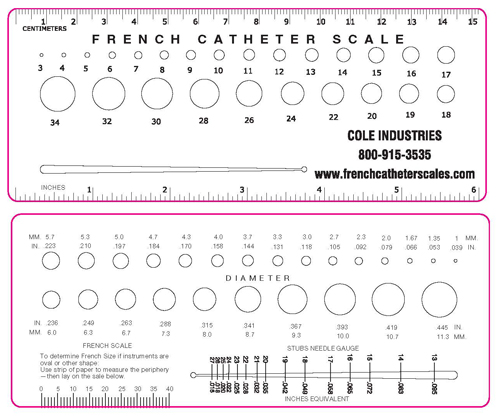 ---
Not looking for French Catheter Scales? We've got thousands of other promotional products! We even offer custom printed Goniometers!